How to unlock excel 2007 password protected sheet. 3 ways to unlock Excel Spreadsheet for editing when forgot password 2019-07-26
How to unlock excel 2007 password protected sheet
Rating: 4,5/10

979

reviews
VBA Code to Unlock a Locked Excel Sheet: 4 Steps
If you do not supply a password, any user can unprotect the sheet and change the protected elements. Users cannot apply or remove AutoFilters on a protected worksheet, regardless of this setting. Navigate to the location of your locked Excel file and add it into this program. From here, you can either copy the password or directly open the unlocked Excel file. Brute-force with Mask attack Other than the password range and length, if you still can remember part of your pst password, you can select this type and set the Mask. Please remember that it is not easy to but yet makes it extremely easier to open password protected Excel file even if you forget it. It will discover all character combinations until recovering your password.
Next
How to Unlock Spreadsheets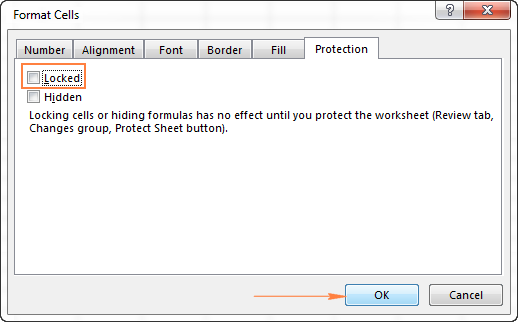 Once recovered, the password will be displayed in a new popup window. Protecting any kind of document with a password is absolutely recommended by every computer expert. An alert style box will appear with a usable code. If Delete columns is protected and Insert columns is not also protected, a user can insert columns that he or she cannot delete. The Excel Password Unlocker is specifically designed for Microsoft's proprietary spreadsheet program, and will guarantee to recover your Excel workbook password no matter how complex or long it might be. Select all the data on the sheet that needs to be unlocked. The last one is for the , which you have to pay for.
Next
Unlocking a Worksheet with an Unknown Password (Microsoft Excel)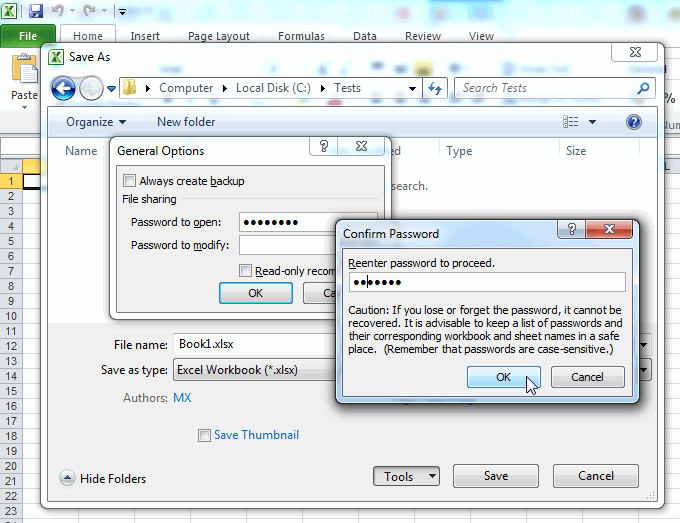 Users can change the values in the changing cells, if the cells are not protected, and add new scenarios. So, does this mean that Excel worksheet protection is absolutely pointless? On a very fast computer 10Petaflops it could take up to 3. Or has someone left your office and they forgot to unlock an Excel workbook with a password set on it? Then you can see there is a Windows dialog box pops up and asking you to type the password. This tool not only works on protected sheets, but also for accessing the Edit function or to open protected workbooks. Excel 2007 - Password Removal Create backup of password-protected excel file.
Next
How to Remove, Crack, or Break a Forgotten Excel XLS Password
Once you do this, you can easily make whatever edits you need to. So, it is advised not to use this code to exploit or crack or hack password protected Excel Sheet data from other users, for which you are not authorized. Option 2: Forgot Excel Workbook structure protection password The Excel Workbook structure protection password is different from the Excel file encrypted password. Modern versions of Excel, such as Excel 2013 and 2016, use advanced encryption techniques which make brute-force methods used by most password crackers virtually useless due to how long the password can take to crack anywhere from weeks to years depending on the password strength. If it is excel file open password forgot now, I think you would need to with third-party software, such as easy-to-use. This unlocks all the cells on the worksheet when you protect the worksheet. Method 2: Unprotect Excel Sheet without Password Excel worksheet protection is quite weak even in the recent versions of Excel 2016.
Next
3 Ways to Unprotect Excel Workbook Structure without Password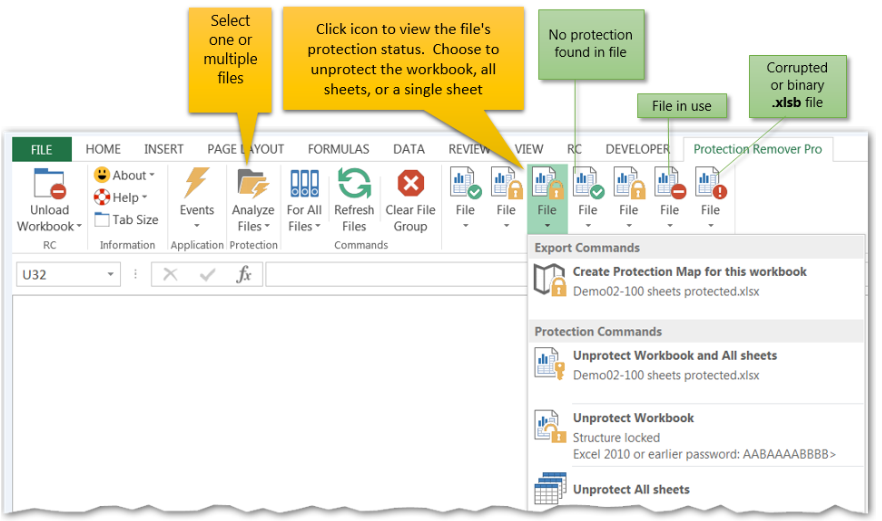 How to unprotect a password protected worksheet. To verify that the names are correct, click Check Names. Here's how to remove worksheet password easily. Unfortunately, there is no quick and simple way for your to view or recover a lost password. Instead, there is a much more easier option. You can use this Worksheet Protection password, only to prevent accidental updates happening to an Excel Workbook. Unprotecting an Excel worksheet without password is no big deal either! It fully supports Excel versions from Excel 97 to Excel 2016, and works on any computer running Windows 10 down through Windows 2000.
Next
How to protect worksheets and unprotect Excel sheet without password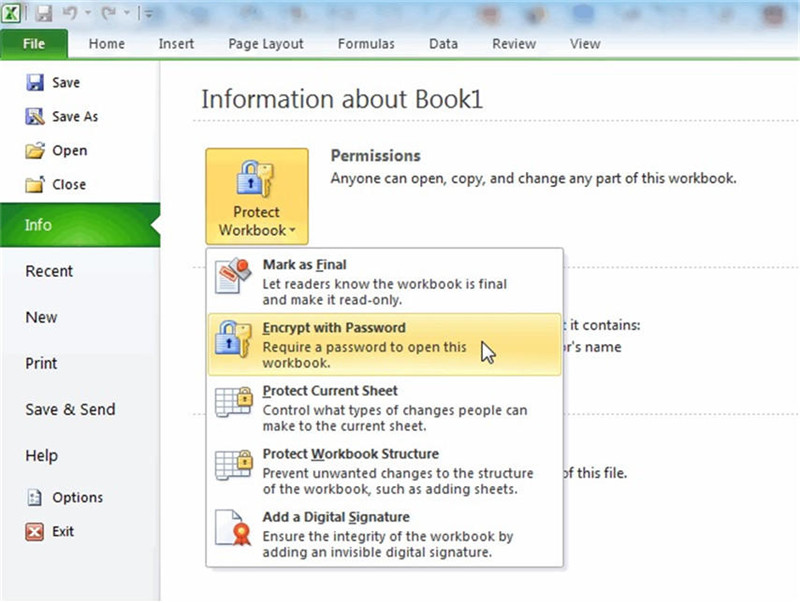 More information about the worksheet elements Clear this check box To prevent users from Select locked cells Moving the pointer to cells for which the Locked check box is selected on the Protection tab of the Format Cells dialog box. Then click the Remove Password button to let the program instantly remove the password protection on your Workbook or. In two seconds, you get a dialog box saying the Workbook protection password is removed. Then waiting for the password recovery process to be completed in the background and then downloading the file along with the cracked password. Press F5 or click on the Run button to execute the Macro. If this was the case, the steps are different from the above one. In this tutorial, we will teach you how to open a password protected excel files so that you can regain the access to your document and retrieve the data from the file.
Next
How to Unprotect Excel Sheet with / without Password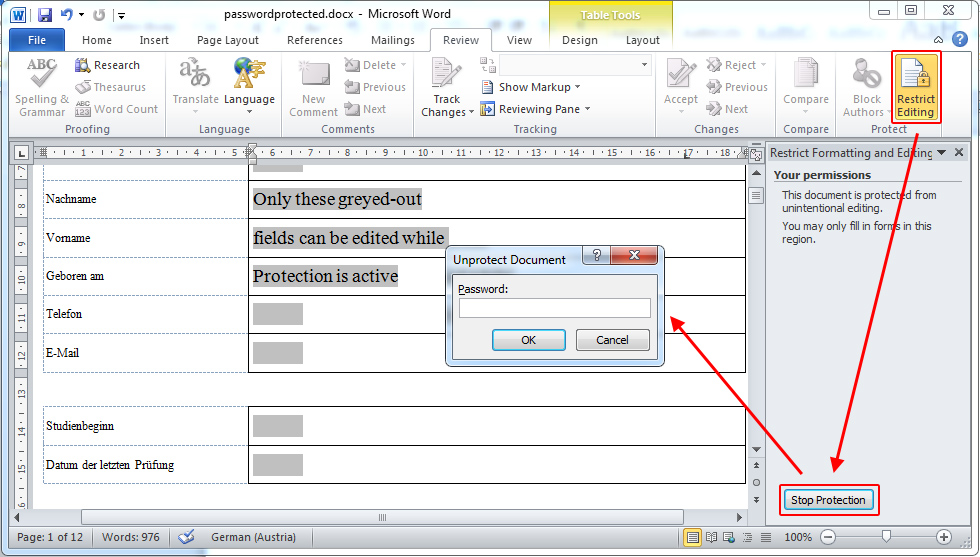 Change excel file type to zip file. Using the password cracker's interface, find your Excel file, click it to select it, and click Open or Choose. Now extract the whole content of zip file. Using the Excel Password Recovery program you can quickly remove worksheet password as well as workbook password from Office Excel 2016, 2013, 2010 and 2007 files. Continue the discussion and add your thoughts in the comments section at the bottom of this article. A common example is to prevent inadvertent erasure or modification of formulas. Next, right-click on the excel sheet and hit the rename button.
Next
How to Unlock Spreadsheets
Press F5 to execute the code. Remove that word from the file and save it. Locked out of encrypted Excel spreadsheet? If you make sure that the password doesn't contain these characters, uncheck this option, or make it checked. Tips: If your Excel file is encrypted with password, first, or the Workbook Unprotect Tuner won't work well for you. It boasts a 90% password recovery rate, and features auto-save progress, auto-shutdown after recovery, program priority modes and several useful options. This program provides two ways: Recover Excel open password with brute-force attack and and unlock Excel workbook and sheet password.
Next
How to Unprotect a Spreadsheet in Office 2007
For example, if a worksheet has a button that runs a macro, you can click the button to run the macro, but you cannot delete the button. Edit scenarios Viewing scenarios that you have hidden, making changes to scenarios that you have prevented changes to, and deleting these scenarios. The three types are explained below: Brute Force Attack: This method is used when you have no idea about any of the password's attributes, like its length, the presence of numbers or special characters, etc. . This method explained here is to educate that there is an easy way to unprotect locked Excel sheet just with few lines of Excel Macro coding. If you're not sure, just go with the Smart Attack option and increase the program priority to Highest for a faster password recovery time. After that, import the protected Excel workbook to the program.
Next